OpenStack Israel 2014 OpenStackIL
I would like to invite you all to join me at the OpenStack Israel Conference that will take place next week on Monday - June 2nd, 2014.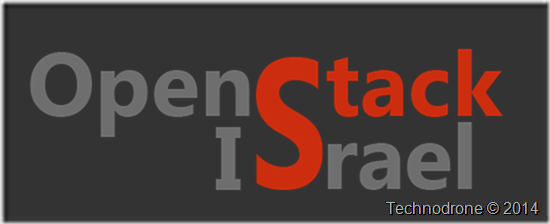 There is a stellar (their words – not mine) lineup of speakers – with a number of guests from across the globe.
I highly enjoyed my experience at the last conference where I presented a session on
OpenStack for VMware Admins.
I will also be presenting at this event as well. It is a great honor.
OpenStack in the Enterprise - Are you ready?

OpenStack is becoming more popular - that is obvious - but are you ready to have it host your Tier-1 applications?

In this session we will discuss what needs to be done in order to provide a stable management plane for the OpenStack - what progress has been made over the years and where we still need to go.

There are a number of solutions out there today from a number of vendors, with a lot of high level information of how to accomplish this. Unfortunately there is no one standard and this session will attempt to be your HA guide to OpenStack Nirvana.

We will also discuss some of the pain points that might inhibit your adoption of OpenStack into your Enterprise.
Some of the keynote speakers will include (full agenda here)
There are several other sessions by prominent figures in the OpenStack community as well.
And for the first time, this year there are also some technical workshops that attendees will be able get some hands-on time with technology.
I am looking forward to this event, and will be sure to share my experience after the event – and of course the slide deck and recording when they are made available.
If you are interested you can follow my participation as I will be live-tweeting from the event. #OpenStackIL