Countdown to VMworld T-8 - Hands on Labs
36 different Labs to choose from. My post from last years labs.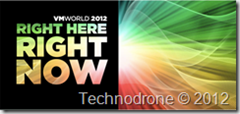 The amount of VM's created and destroyed over the week, will be more than you will probably ever create in a lifetime. And all of it sitting in the Cloud. VMware really eat their own dog food a,d have created a great experience.
There are some innovations this year including BYOD labs, and some lightning labs that will be short and sweet.
Some of the labs I would like to take this year are:
I gather I will not make it to all of them – but I hope they will be made available to the general public after the show.