Countdown to VMworld T-7 - Blogger Lounge
Being a blogger has its perks, being a vExpert has it perks as well. We have exposure – but I promise you that is not why we do it.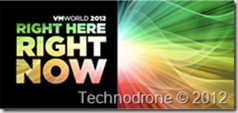 Most of us do not blog for a living – we all have our regular 9-5 jobs (and then some) and we write these articles on our own spare time.
VMware recognize the value of the blogosphere and one of the biggest social community programs around. the blogger lounge is a place for us to come and recharge, to meet, to put our thoughts, pictures and experiences onto paper (well not real paper but you know what I mean).
The lounge will almost always have a blogger or a vExpert there during the whole show – and of course the famous John Troyer and Alex Maier who are the vExpert patron and look after us very nicely.