Putting Some Ops in the Dev - OpenStack Summit
I am currently writing this post from the plane on the way to the summit in Paris. For those of you who are living under a rock, or were completely unaware, this is the biannual "pilgrimage" of all thing OpenStack. This coincides with the Juno release that was went GA less than 3 weeks ago.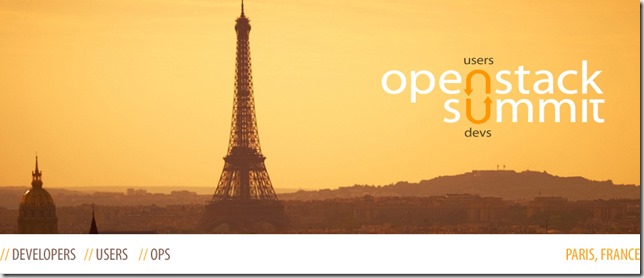 This is only my second summit, I have but I am really looking forward to bumping into some familiar faces, and making new acquaintances.
It is not the first time I have said this, but I think that OpenStack is at a crucial impasse, at a time where some hard decisions have to be made, before it reaches a point of no return.
A new Technical Committee was elected recently, and already there are rumblings as to what should be the criteria for those who can voter, why is the the participation so low and is this a trend that we were going to have to get used to. To all those above, I do not have a clear answer, although I would like to add one thought.
The technical committee is elected by the ATC's (Active Technical Contributors). That is the way it should be, those who are actively putting in their time, their code into the projects, should be the one's who decide who they want as their representative. I think this was the first time where all candidates were presented with a set of questions which tried to show their point of view of how things should be going forward.
Personally, I have met one or two of them, with others exchanged an email or two, an IRC chat or two, and others I know of them just from what I read on the mailing lists.
I think there is one very important thing that is missing, and hopefully, something that will change going forward. All of the candidates, they come from the technical contribution side. They know their stuff, they know the community, but I am not sure I can say that they have large deployment experience, they have not experienced 1st hand, in the flesh, the problems, the challenges, the frustrations that those who are deploying OpenStack in the field have.
The biggest problem here is that the number of Operator's (this is what is the acceptable term is in the OpenStack community) that actually contribute code into OpenStack is minimal or close to zero.
There are numerous reasons for that, and some might say that this is not the way it should be, but I am skeptical if and when this will change. Until that happens there will never be an 'operator' perspective, or an 'Operational way of thinking' as part of the technical committee.
And again, some might this is the way it should be.
I do not. I think that is in the best interest of the foundation and of the OpenStack community as a whole to have someone with that background, with that frame of mind as part of the committee that is leading us all.
Unfortunately, this is what I see as a classical disconnect between development and operations, the antithesis of DevOps, where they should work as one, and not have the Operations people and the 'Enterprise' join in as an afterthought. That unfortunately is the case as it is today.
I hope that I can get this point through to as many people as possible at the summit.
Please feel free to come and sit down and chat with me, I would always be interested in hearing your thoughts and ideas. I am pretty easy to recognize, I gather there will not be many people at the summit with a kippah.
Of course you can always leave your thoughts and comments below as well.