The Ultimate Blogger's Guide to VMworld 2013
There are a number of posts out there on the WWW with great guides on how to make the most of your time at VMworld, two of them are mentioned here below:
These are great resources.
I would like to share with you, some advice of how I would make good use of my time, AS A BLOGGER, while at VMworld.
This year I will be part of the Cisco Social Media effort at the conference.
Get Social with Cisco at VMworld 2013 (Your Ticket to Community Activity)
Why would attending VMworld be any different than for a regular attendee?
For a number of reasons.
As a blogger, this is the Virtualization conference of the year, and being there not only provides a huge amount of energy for you and your blog but also a huge amount of material for you to write about.
You have your view, that most of the attendees do not, sometimes positive, other times not so. Your interests will be different from those of the regular customer, the regular attendee.
You are at an advantage, because being part of the media (albeit not the traditional kind), people want to talk to you, hear your opinion, and get your feedback. It is important to them.
It was stated perfectly in the song Class of 99..
Ladies and Gentlemen of the class of '99 '13
If I could offer you only one tip for the future, sunscreen would be it.
The long term benefits of sunscreen attending VMworld have been proved by scientists
whereas the rest of my advice has no basis more reliable than my own meandering
experience…

I will dispense this advice now.
Don't attend too many sessions
Why? I thought that was the reason that we were coming to VMworld, wasn't it? Well Yes and No. All the sessions are recorded, and are available afterwards for your offline viewing.
The only exception to this rule (IMHO) are the group discussions (the sessions that are marked as GDxxx). The reason being here is that they are not recorded, you have a (relatively) small intimate group of usually highly technical people with direct access to the SME on that particular subject who is interested in hearing your feedback, and will be providing some really good information on the subject.
These sessions are not recorded (or at least they have not been in previous years) so if you miss it, then that's it.
HOL (Hands on Labs)
This used to be a must on my list, but not any more. VMware has stated that the labs will be available for consumption after the show, and I am pretty sure that as an attendee, you will have access. I would find a quiet time to go and do a single lab, something that really interests you, and that can write something about. Remember, you are going there to have fun, but your ulterior motive should be to create content.
General Sessions
Bloggers will get special treatment as part of the Press with a "good seat" and perhaps access to a table and media Wi-Fi. Assuming that is if you go into the main hall to attend the session.
I would advise against it.
There will be thousands of people in the session. Yes, you will have the whole splashed in you face with these huge screens. Yes, you will get to see Stephen Herrod Pat Gelsinger on stage.
Ok.. And…
I prefer to this from the comfort of the hangspace.
The screen is more than big enough.
There is place at the blogger tables, usually with better internet.
You will be able to exchange your views with other bloggers and like-minded people who are sitting next to you.
Bloggers Table
Make time in your schedule to go and sit at the the bloggers tables in the Hangspace area. At any time of the day, you will always find a familiar face, to talk, chat and just have a good laugh. We are all going to VMworld to work, but also to have a good time.
The area is big enough , but not too large, which gives you enough quiet to get some writing done and catch up on the huge amount of news that will be coming out of the conference.
vBrownbag
The vBrownbag Techtalks were a great success last year. Personally, I think one of the highlights of the conference. This year's schedule is no less spectacular.
Speaking to the presenters, the vendors who are there, and the people who just come to listen/watch. That is what it is all about.
Social Parties
This is one with mixed feelings for me. There are so many different gatherings and meetups, and so many of them are overlapping one another, that it will be impossible to attend them all. Not enough time in the day night.
Solutions Exchange
Do you homework beforehand. Go over the list of vendors that will be at the conference and pick out those that interest you, and that you would like to go and speak to.
My list for this year is as follows:
Skyera
MAXTA
Xceedium
Vormetric
Maginatics
Metacloud
Scality
ElasticBox
Cloudpassage
Asigra
Actifio
AirVM
Cloudbyte
Parasoft
PlumGrid
TwinStrata
Zadara
Kaminario
Usually - these companies will not be in the middle isles - where of course it costs a lot more to have a booth. They are on the sidelines, go at seek them out, and speak with them.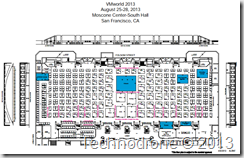 Reach out to the companies beforehand and ask if they can set up some time with you during the show, to get a more detailed overview of the product, or perhaps even a small briefing before the show. VMworld is a mad house. From a vendor standpoint they would like to get their message across to as many potential customers as possible, so your time can be limited, and perhaps a detailed meeting would not be best at the show.
Go and introduce yourself, and if need be get the name of the person you would like to speak after the show.
It is always beneficial both to your blog, and to the vendor, to get an deep dive into their product.
Say no more!
Blog Posts
This one might come as a shocker to most of you, but here goes.
Do not expect that content you publish during the show will get the amount of publicity you expect, and let me explain why.
The amount of posts that will be going out during the week of VMworld, will be at least 5 times the usual. Why because everyone is there, there are going to be so many announcements made (hint, hint) that will make your head spin.
People cannot read it all. It is physically not possible. Your post will be one of 20 that will say the same, "VMware has announced…. ", "VMware plans to dominate the world …."
Several bloggers are already privy to information beforehand, due to them being part of certain focus programs, and they have already put together a batch of blog posts on X, Y or Z beforehand.
My advice would be to prepare your content, gather the material, gather your thoughts and get your inspiration from the conference.
Tweet as much as you like, Share, interact, but if you want your post to get the exposure you are hoping for, do not post it during the conference.
I would suggest letting the hype die down slightly, and then get your message out there.
Live Blogging
I know very few people who can actually live blog a session, Scott Lowe is one of those few.
If you are good at this - and are able to portray the message from a session - then go for it. Your audience will thank you.
And last but not least…