vCenter Log Insight Now Available
vCenter Log Insight (Release Notes) - The first public release of the new Log Management and Analytics product.
VMware vCenter Log Insight is the new solution of VMware for log management and analytics for dynamic hybrid cloud environments. It delivers superior technology for automated log management through log analytics, aggregation, and search to extend the leadership of VMware in analytics to log data.

Log Insight can analyze vast amounts of unstructured machine generated data and enable interactive, real-time search and analytics through an easy to use interface providing superb time to value. It analyzes log data of all types and from all devices, enabling deep, enterprise-wide visibility. With a focus on integrated cloud operations management, and an analytics driven approach, Log Insight provides the operational intelligence needed to proactively enable service levels and operational efficiency in dynamic hybrid cloud environments.
Think of it as something similar to Splunk but different - it is specifically vSphere Centric (at least at the moment), built by VMware people (as a result of the Log Insight acquisition from August 2012) and it integrates with vCOPs (which is a great plus)
There is recommended sizing document

VMware vCenter Log Insight is available for purchase as a standalone product. It has a simple pricing model, with one flat rate for any server, virtual machine or vSphere host from which you collect logs.
VMware vCenter Log Insight is licensed on a per operating system instance (OSI) basis, which is defined as any server, virtual or physical, with an IP address that generates logs, including network devices and storage arrays.
With Log Insight, you can analyze an unlimited amount of log data per OSI. The advantage of this is a simple and predictable pricing model that is based on the size of the infrastructure; it does not force you to buy additional licenses to cover the worst-case scenario and pay more for increased log volumes.
Given that systems and devices can generate huge amounts of log data during peak times, or while monitoring and troubleshooting for various IT issues, this is an important distinction.
Detailed pricing information will be announced when vCenter Log Insight is ready to ship
in Q3 2013.
Just as a side note… Version 1.0 should not have a version number of 0.9.1 - that does not make sense…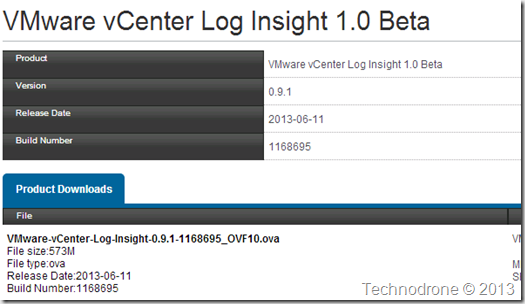 Give it a spin - and le me know what you think about it?