vCloud Suite Licenses and (NO)vRAM
Yes I said the "v"- word again. That "dirty" term that was abolished at VMworld 2012 this year.
(forgive the cynicism)
To my surprise – it is still haunting me – and I suppose soon us all.
A week ago I received my first vCloud Enterprise Suite license.

Happy as can be, I added it into my vCenter Server and then I realized something which was strange..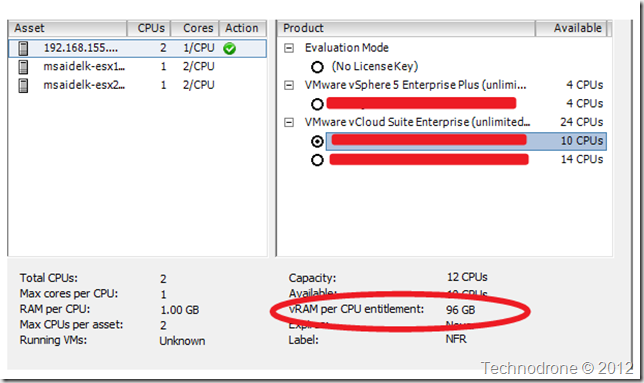 I checked the API as well.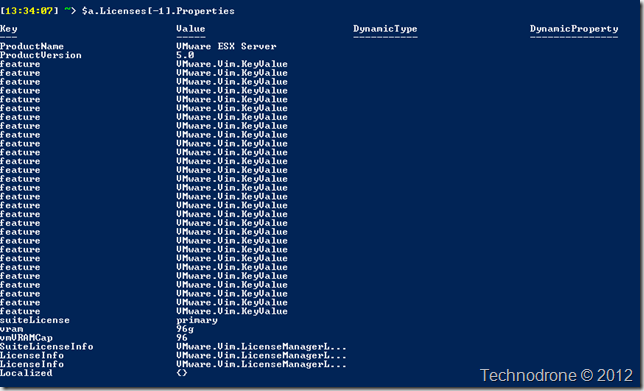 The license itself definitely has a vRAM entitlement embedded into it – of 96GB per CPU

.
I reached out to John Troyer who got back to me almost immediately (thanks John!!) with an answer. This is still listed in the license – and was not ripped out in time for the 5.1 release – and can safely be ignored. I received the same answer as well from Mike Laverick 
I opened an SR for clarification – and am waiting on an official answer – I assume this will be the same as I received above.
At the moment KB 2032903 - Managing licenses on ESXi hosts using the vSphere Web Client states the more or less same thing.

I just do not understand if this property is a feature embedded within the license itself (and if so then it should be easy to remove – and so it should have been!), or is this property expected within the API – and if removed will break something.
I will update with my findings.
Update 29-11-2012
I received an answer (as expected) from VMware customer support that there is no vRAM limit on ESXi licenses anymore. This seems to have been a problem with the generation process of the vCloud Suite licenses which should now be fixed. The entitlement can be safely ignored.