vCloud Suite Upgrade – There is No Free Lunch
As you should have heard by now vCloud Suite will be available as a free – well almost free.
According to the VMware vCloud Suite Upgrade Promotion you have until December 15, 2012 at 11:59pm Pacific Time (PT) if you have purchased vSphere Enterprise or vSphere Enterprise Plus as of August 27th, 2012 and you have an active Support and Subscription agreement to upgrade to vCloud Standard Edition
So for the Enterprise Plus customers this is a no-brainer … or is it???
What many people do not understand is that from a CAPEX perspective you come out on top. But OPEX is where you will feel the hit - with your renewal of your support. Brian Knudston started to address this in his article.
From the Support FAQ
Q. Is Subscription and Support (SnS) required?
A. For the "$0 upgrade" from vSphere Enterprise Plus to vCloud Suite Standard, the existing SnS contract will persist and no additional SnS is required at time of purchase and the new SnS rate will be charged at the next renewal When the upgrade is selected, the same level of support must be chosen for the upgrade that covered the original vSphere Enterprise Plus license. For example, if the vSphere Enterprise Plus was covered by VMware Basic Support, then the upgrade to vCloud Suite Standard must also have VMware Basic Support.
Let's put this into numbers for a minute. I have taken the list prices from the VMware site.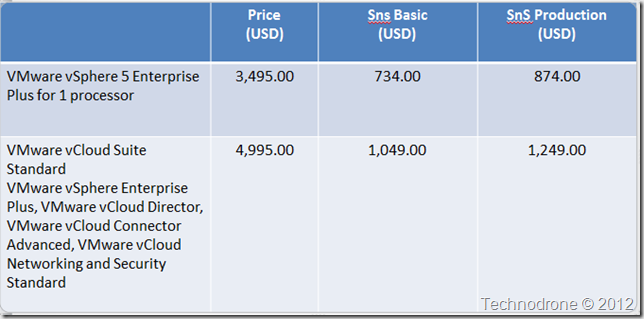 (Of course not many people pay list price so your exact number will differ)
Take the following example. My infrastructure has 50 vSphere Hosts (Dual socket) with Enterprise Plus edition. My SnS expires on December 31, 2012.
$874 x 100 = $87,400 to renew my Support and Subscription for one year.
I decided to take VMware up on their generous offer and upgrade all my Enterprise Plus hosts to vCloud Standard for a huge amount of 0$.
Sweet deal!! I now have vCloud Director which I can deploy in my Enterprise – and it did not cost me anything.
Along comes January 1st, 2013 and I have to pay for my SnS renewal.
Here is the math.
$1,249 x 100 = $124,900 to renew my Support and Subscription for one year.
Hey – my support costs just jumped by – yep… 43%.
Is this worthwhile – I think that each and every organization will have to do the math for themselves. If your SnS is already paid up for the next 3 years then you might even save money. If you were already going to invest in vCloud director then it could be that will come out on top.
There is no such a thing as a free lunch.