Automating vSphere With VMware vCenter Orchestrator
I had some time this past week to read Automating vSphere: With VMware vCenter Orchestrator by Cody Bunch.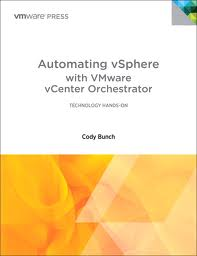 I stand by my views that vCenter Orchestrator is one of those uncovered gems that unfortunately not enough VMware professionals know how to use and do not make enough use of the product and the vast number of options and functionality available with the product (I must confess, I am just guilty as everyone else here).
Orchestrator has been a free product bundled with vCenter ever since the vCenter 4.0 (vCenter Orchestrator 4.0 | 15 April 2009 | Build 4240) and was installed by default with vCenter.
One of my biggest complaints about the product in its earlier version was that the documentation sucked! Really!! There was barely enough info about how to install Orchestrator correctly.
The documentation has improved immensely over the years and Orchestrator is finally being recognized for the useful tool it actually is. What I was still missing was a clear and concise how-to, down-to-earth explanation on Orchestrator and here is where I think Cody has done an extremely good job with this book.
I really liked the real-life scenarios and use-cases that Cody demonstrated. These scenarios are common to most environments and show how certain "annoying" tasks can be simplified in such a way that not only will your boss be amazed – but you will also have the time on your hands to do more important things (like creating even better workflows).
I would highly recommend this book to anyone who is interested in learning more about vCenter Orchestrator.