Day 3 started with me being a bunch of nerves and getting up at the crack of dawn. I would like to lodge an official complaint with the Danish Hotel Association (If that even exists)
You should not have two hotels named the same in the same city
First Hotel Vesterbro // COPENHAGEN and the First Hotel Skt. Petri // COPENHAGEN. Not being Danish - can you see how this can be confusing - and they are located within 1.5 Kilometers of each other.
This caused confusion this morning which almost made me late for my VCDX defense. I will talk about that in a separate post.
After a short walk through town, and back at the Bella Center I felt so relieved after the defense was over - so it was back to the conference.
A session with the support services of VMware that I was invited to (but left before it was finished) - after receiving some interesting information which I shared on Twitter
8 character password issue is 4/12 of top support issue in vSphere 4.1 - http://bit.ly/bSn8t2

— Maish Saidel-Keesing (@maishsk) October 13, 2010
http://bit.ly/d1zQCc 5/12 top support call Host Crash because of ESX Active Directory Authentication

— Maish Saidel-Keesing (@maishsk) October 13, 2010
Solutions Exchange was still buzzing - it was quite amazing how much you do not notice the noise when you are down on the floor.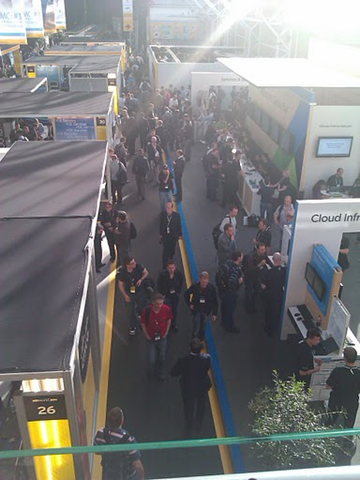 I then joined ALT2004 Building the VMworld Lab Cloud Infrastructure - Dan Anderson. Absolutely amazing!!
I so enjoy these sessions which are given by extremely technical people, who do the every day job that I do as well, and it is great to hear how they did it, what were the issues they came across along the way and how they dealt with the issues.
A quick summary.
A large part of the lab infrastructure is running on Nested ESXi
This was the Infrastructure in San Francisco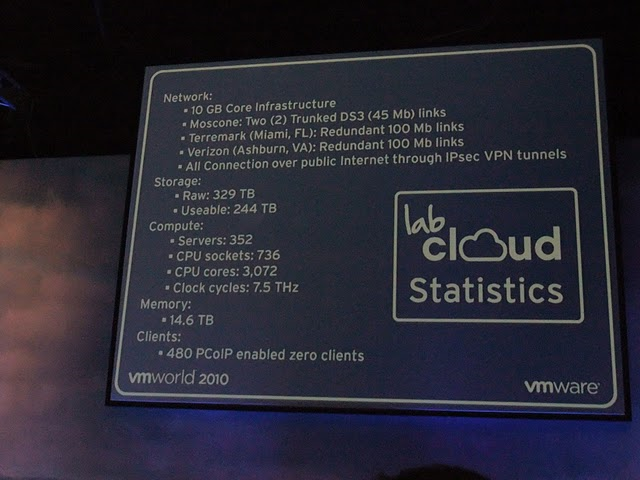 And this is what was set up in Copenhagen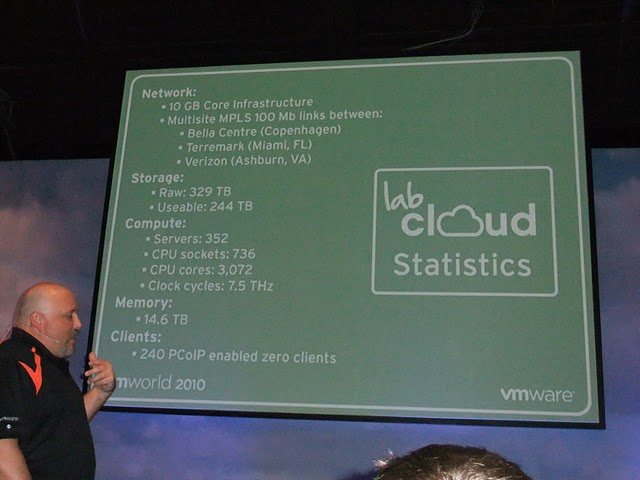 There was another full datacenter set up in the Bella Center itself - but was not used. (redundancy)
Storage used was iSCSI, NFS, and FC
Cloud Lab is an internal product by two individuals at VMware employees who developed it as Dan put it "on their second day job"
They were running some 64 bit VMs under the Nested ESXi hosts. Something which is not possible to day. (and of course he did not tell us how it was done)
Dan's Manager "volunteered" him for the job of creating a Whitepaper on the whole process.
After the session the Q&A continued further in to what exactly that limitation is that does not allow a 64bit VM to run under a nested ESX.
If you do download the sessions, this one is a must.
After this session, I returned back to the blogger lounge - to be asked to join a short 1 minute piece on the VMworldTV channel with John Troyer.- I will post the the link to the video when it becomes available.
I sent some time at the VMware party, music, drinks and food were a`flowing.
And that was Day 3.
And I still do not have an IPAD. (but Joep Piscaer does!)
just won an Apple iPad 16GB WiFi at the #VCE booth. Thanks #EMC

— Joep Piscaer (@jpiscaer) October 13, 2010