What's New in vSphere 4.1 - ESXi
Here are some of the New features and enhancements for ESXi 4.1 and the vCLI
Get ready - THERE WILL BE NO MORE FULL ESX!! (or so VMware promises…)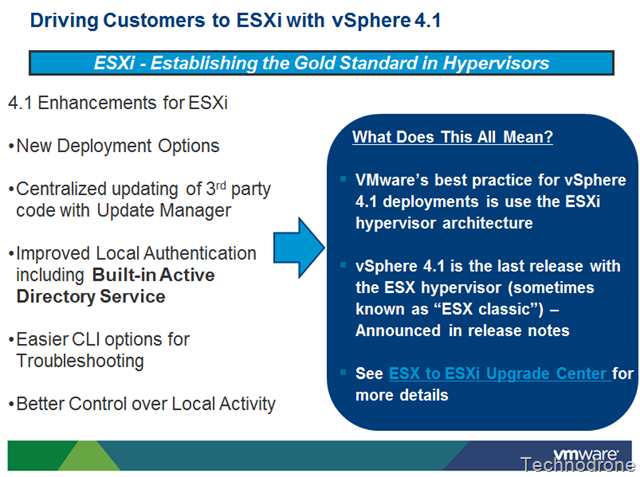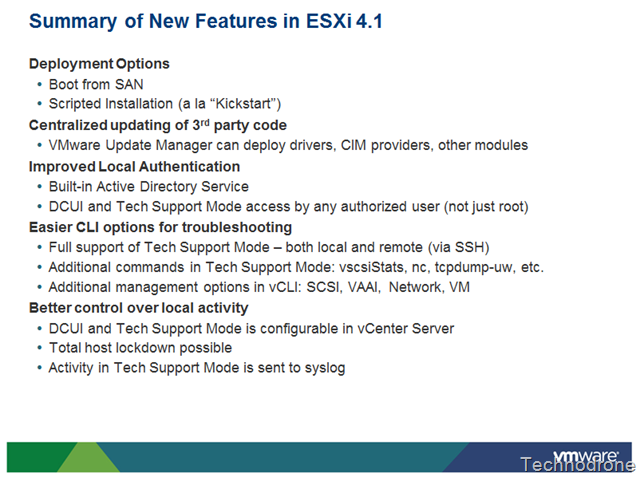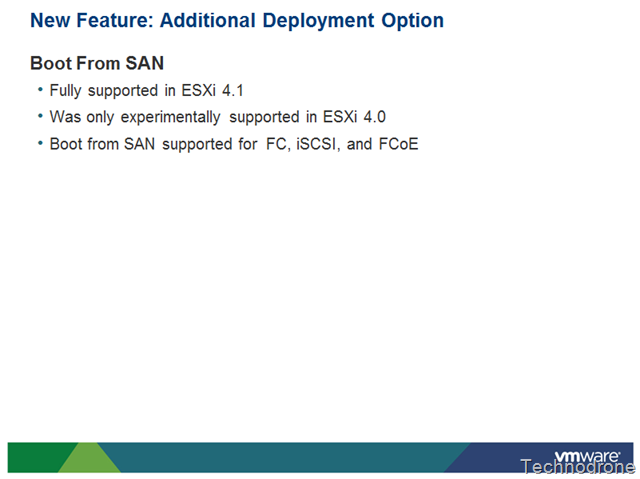 Boot From SAN will be fully supported in ESXi 4.1. It was as only experimentally supported in ESXi 4.0. Boot from SAN will be supported for  FC, iSCSI, and FCoE – for the latter two, it will depend upon hardware qualification, so please check the HCL and Release Notes for vSphere 4.1.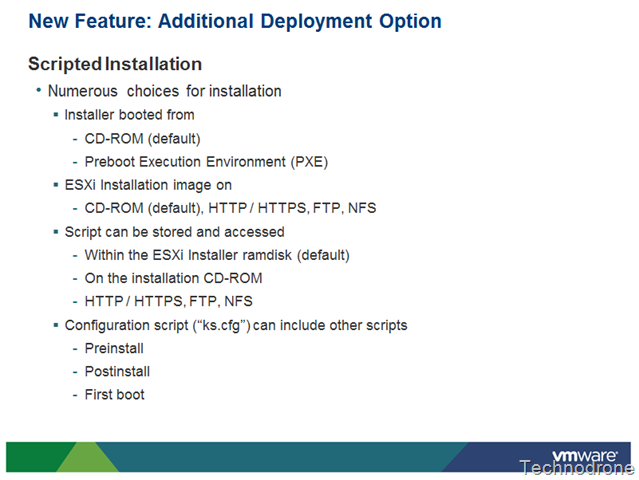 Scripted Installation, the equivalent of Kickstart, will be supported on ESXi 4.1. The installer can boot over the network, and at that point you can also do an interactive installation, or else set it up to do a scripted installation. Both the installed image and the config file (called "ks.cfg") can be obtained over the network using a variety of protocols. There is also an ability to specify preinstall, postinstall, and first-boot scripts. For example, the postinstall script can configure all the host settings, and the first boot script could join the host to vCenter. These three types of scripts run either in the context of the Tech Support Mode shell (which is a highly stripped down version of bash) or in Python.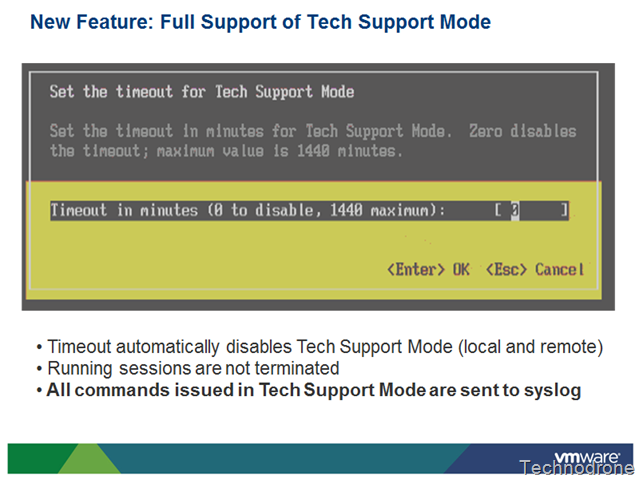 In ESXi 4.0, Tech Support Mode usage was ambiguous. We stated that you should only use it with guidance from VMware Support, but VMware also issued several KBs telling customers how to use it. Getting into Tech Support Mode was also not very user-friendly.
In ESXi 4.1, Tech Support Mode (TSM) will be fully supported. You can enable and disable it either in the DCUI or in vCenter. TSM over SSH, aka Remote TSM, is also fully supported, and can enabled and disabled independently of local TSM.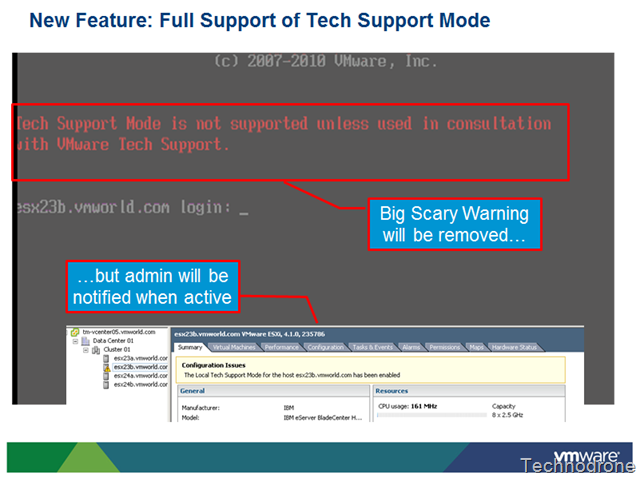 The warning not to use TSM will be removed from the login screen However, anytime TSM is enabled (either local or remote), a warning banner will appear in vSphere Client for that host. This is meant to reinforce the recommendation that TSM only be used for fixing problems, not on a routine basis.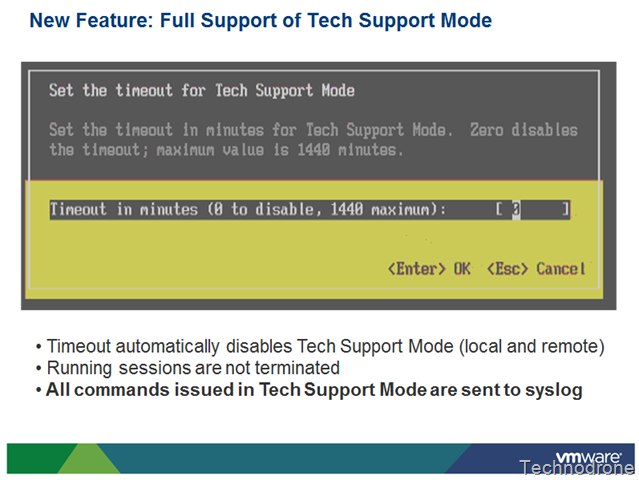 By default, after you enable TSM (both local and remote), they will automatically become disabled after 10 minutes. This time is configurable, and the timeout can also be disabled entirely. When TSM times out, running sessions are not terminated, allowing you to continue a debugging session. All commands issued in TSM are logged by hostd and sent to syslog, allowing for an incontrovertible audit trail.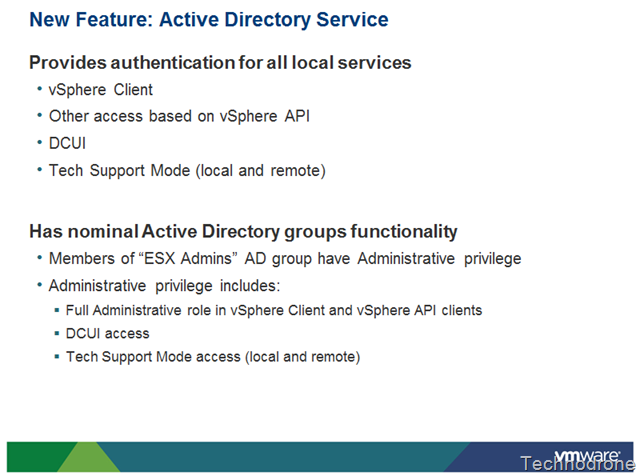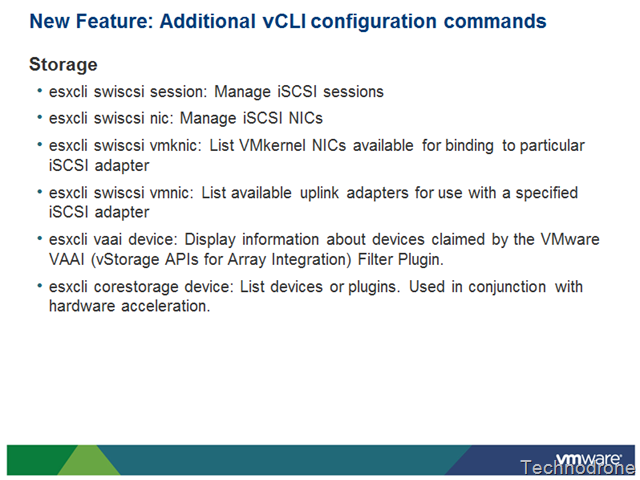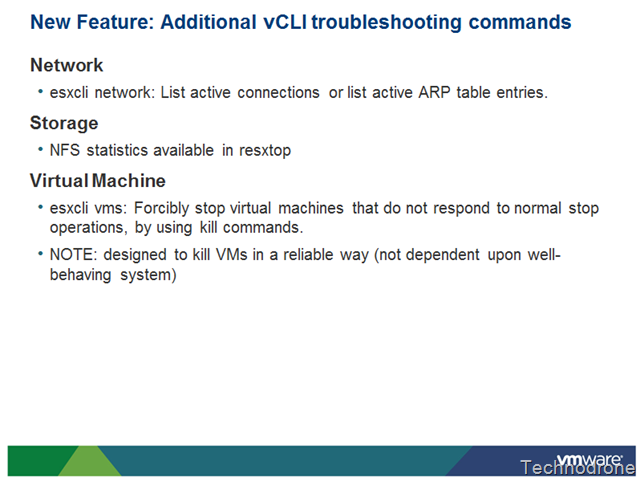 Other new vCLI commands include network troubleshooting and new information exposed in resxtop. Finally, the ability to forcibly kill a VM has been added to vCLI, thus eliminating one of the most common reasons for wanting to use TSM.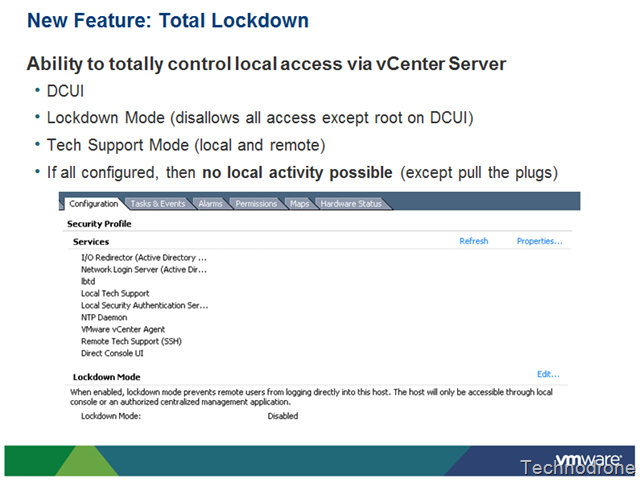 There is now an ability to totally lock down a host. Lockdown mode in ESXi 4.1 forces all remote access to go through vCenter. The only local access is for root to access the DCUI – this could be used, for example, to turn off lockdown mode in case vCenter is down. However, there is an option to disable DCUI in vCenter. In this case, with Lockdown mode turned on, there is no possible way to manage the host directly – everything must be done through vCenter. If vCenter is down, the only recourse in this case is to reimage the box.
Of course, Lockdown Mode can be selectively disable for a host if there is a need to troubleshoot or fix it via TSM, and then enabled again.