One of my valuable tools that I use is Veeam's FastSCP. A while back they introduced a new version that was compatible with ESX3i - which was a great blessing!
Today I tried to connect to my ESX4i server and I found that it would not.
Received an error: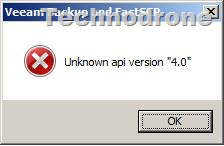 I started to look on their support forum, but could not find any mention of ESX4i - so I reverted to Twitter.
I posted:
@veeam - does fastscp work with esxi4 I am getting an unknown api verison 4.0 error http://twitpic.com/5zq83

— Maish Saidel-Keesing (@maishsk) May 26, 2009
and lo and behold (10 minutes minus a few seconds later)
@maishsk Currently testing version 3.1 with the GA code of vSphere 4.0, should just be a few more days. Veeam Backup first, then FastSCP

— Veeam® Software (@Veeam) May 26, 2009
Twitter of course is an amazing tool, and I don't really how people work without it. Don't you love it?
So just to let you all know FastSCP will not work in its current version with ESX4i - but will very soon.
Update: I was using an older version 3.0.0.220 to be exact. I downloaded a newer version 3.0.1 today and all works fine. Thanks again to Veeam for wonderful support and follow up. Well done!