The Chef's Special and Trusted Solutions
It is funny where one gets the idea for a blog post from. I was sitting in a restaurant last month in San Jose, one of the only two kosher ones in the area, and I ordered the chef's special.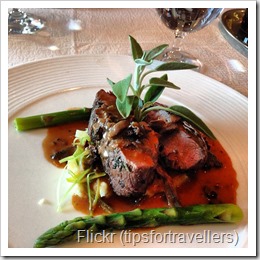 So it was grilled salmon, mashed potatoes and grilled vegetables. It was tasty, the flavors blended very well. Which got me thinking.
What made the chef choose that combination? Why those three? Obviously he had tested different combinations. Pasta, rice, noodles, different kinds of vegetables, different spices. But he chose that combination. Tried and tested.
If I had the to choose what I would have wanted with that dish, it probably would have been rice, not potatoes.
So what does this have to do with trusted solution? But before that – a bit about what I think a trusted solution is.
A trusted solution can be something like a vBlock, a solution that has been validated, Hardware which is tested for a certain workload, guaranteed to provide the proper performance and to work.
It could be the VMware HCL, where Q&A has been done to test if things work and work properly. It could be a validated design from one of the vendors – a Cisco CVD, a Flexpod or another solution.
On the other hand I could also have asked for a mix and match on the menu, what I preferred, what I know that I like, I have tried before.
That I could compare to a home built solution, or perhaps a whitebox that is not on the HCL or a slightly different vendor. Will it work – probably – but it something that is probably unique to your liking.
There are advantages to both options, both can serve you well, both are tasty.
(The things that pop into your mind..)
What do you prefer? What do you think suits your business better? The Chef's special or your own personal favorite mix and match? And why?
Please feel free to leave your comments and thoughts below.