OpenStack Israel Sessions - Cast your Vote!
I would like to ask your assistance in voting for one of the sessions I proposed for the upcoming OpenStack Israel conference next month.
You can cast your vote here - https://www.openstack-israel.org/#!call4paper/cf4g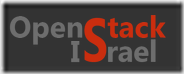 The three sessions I submitted are:
Rapid deployment of Openstack with Cisco Openstack Installer 
In this session I will demonstrate the Cisco A Rapid Devops approach to the deployment of Openstack
Using an Open source tools, such as Puppet, Cobbler to rapidly get your Openstack deployment up and running in no time
Openstack for vSphere Admins
During this session we will go into how each of the parts of Openstack correlate to the infrastructure pieces in your vSphere environment, and how you can make use of your current vSphere environment with Openstack.
We will also deal with the limitations and caveats that need to be addressed with the current Grizzly version and its vSphere integration
Does it make sense to deploy vSphere under Openstack?
This session will go over the pros and cons of deploying Openstack on top of vSphere.
Some of the topics will include
Does it make sense?
Aren't they the same solution?
What considerations should you take into account if you go down this path?
Your vote would be highly appreciated!!
Thanks in advance!