vSphere Big Data Extensions v1.0 Beta
VMware vSphere Big Data Extensions 1.0 Beta - Release Notes
VMware is proud to announce the VMware vSphere Big Data Extensions v1.0 beta. This product is designed to work with vSphere and leverages the VMware contributions to the Serengeti Project.

Big Data Extensions gives customers an easy to use management tool to provision, manage, and monitor enterprise Hadoop clusters on vSphere through the vCenter user interface.
vSphere Big Data Extensions is a virtualization platform that enables provisioning and lifecycle management of Hadoop on VMware vSphere. This release provides the following features and enhancements.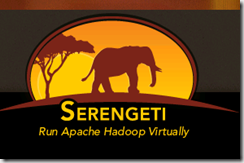 Big Data Extensions Graphical User Interface.

You can perform the following tasks with the Big Data Extensions graphical user interface.

Create, scale-out, and delete clusters.
Manage vSphere resources for use by Hadoop clusters.
Manage and monitor Hadoop clusters.
Control Hadoop resource usage.

Support for all Major Hadoop Distributions.

Automatic Elasticity.

Adjust the Compute and Memory Resources of Running Hadoop Clusters.

Disk Failure Recovery.

Create a Hadoop Virtual Machine with a Custom Linux CentOS Operating System Configuration.

Support for vSphere Standard Edition When Using the Technology Preview.
vSphere Big Data Extensions Administrator's and User's Guide
vSphere Big Data Extensions Command-line Interface Guide
I am sure this will be of use to those who are already using Project Serengeti