Red Hat 6.4 Clustering Changes
I am pretty sure that this one escaped under the radar – because it was not well advertised.
Red Hat released on December 4th, 2012 their latest Beta of RHEL 6.4 – release notes can be found here.
So what has changed?
The VMware para-virtualized drivers have been updated to provide a seamless out-of-the-box experience when running Red Hat Enterprise Linux 6.4 in VMware ESX. The Anaconda installer has also been updated to list the drivers during the installation process. The following drivers have been updated:
a network driver (vmxnet3)

a storage driver (vmw_pvscsi)

a memory ballooning driver (vmware_balloon)

a mouse driver (vmmouse_drv)

a video driver (vmware_drv)
The other interesting tidbit was this:
Red Hat Enterprise Linux 6.4 adds support for clusters utilizing VMware's VMDK (Virtual Machine Disk) disk image technology with the multi-writer option. This allows you, for example, to use VMDK-based storage with the multi-writer option for clustered file systems such as GFS2.
Up until now – according to this RedHat KB (Virtualization Support for High Availability in Red Hat Enterprise Linux 5 and 6) – the only way you could install a RedHat cluster on VMware was by using either an RDM (Physical/Virtual compatibility mode), a Raw Disk or in-guest iSCSI disks.
With this release it now changes – you can use a regular VMDK which means regular VMFS.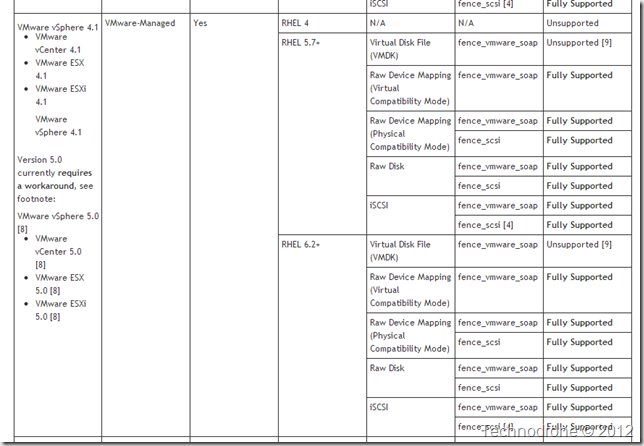 I think that the time is right for VMware put up a page for RHEL clustering support – similar to the one they have for Microsoft Clustering. There is no such page existing today.
Just as a side note for Red Hat 5.9 – neither of these features were added.