Countdown to VMworld T-3 - Atmosphere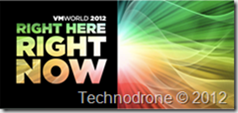 The people. I might have mentioned this in a previous post, there are a lot of people at VMworld. Most of them are tech people – like you and I. Some more technical than others – but hey we cannot all be the same. Coming from a country that only has a population of about 7 million I am never used to the sheer size of things in conferences like this. Feeding 20,000 people in the span of an hour and a half – is no small thing. So I am constantly amazed.
There is an adrenalin somewhere, maybe they inject it into the air (joking..)  but if you ask me it is an intense experience that stays with you long after the conference is over.
Seeing people left, right and center all around that you only hear about on blogs, or see on live broadcasts – and then having the option to sit down with them, and all the more so – you get to realize that they are just people like you – friendly, nice and down to earth.
I don't go VMworld to work
I have several commitments but those are my own choice. Perhaps those who actually do work the whole week (and as a result – months before and after the show) might feel different.
I always come back home with a huge feeling of satisfaction, it gives me the energy to continue what I do, and to go even further.
I hope some of this atmosphere rubs off on you as well.
Don't be afraid to say hi and have a great time!