Welcome to VMware Alive VM
Heh? Alive VM? I have never hear of it? Well up until today neither had I.
Looking at my previous post Upgrade to Enterprise Plus promotion I clicked on the link (which was originally pointing to the above mentioned promotion) and was presented with this page.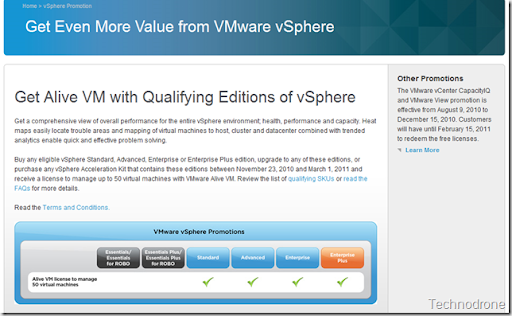 A quick search on VMware's site brought only these two hits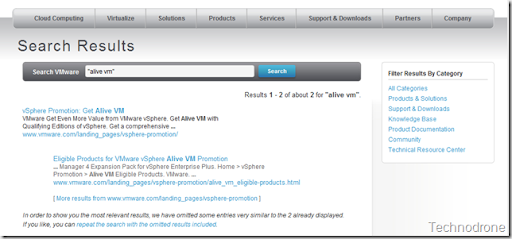 A Google search brought me to this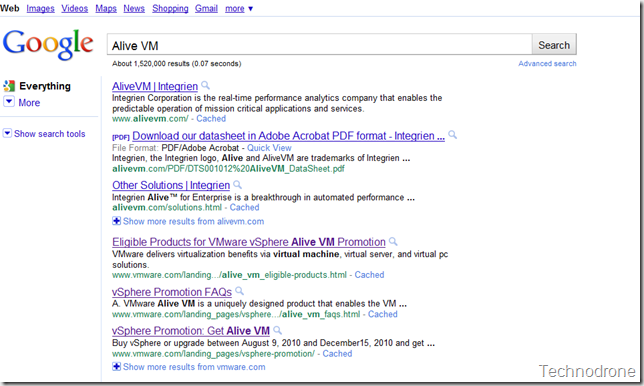 Aha! Integrien!!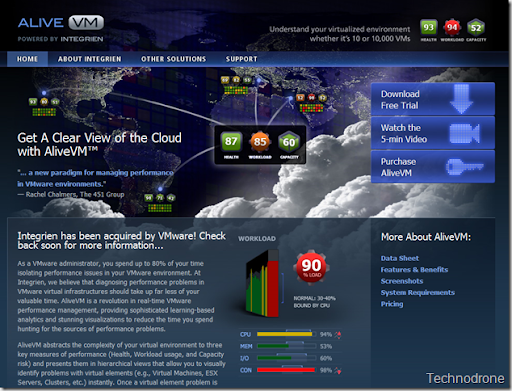 Now Integrien was acquired at the end of August 2010 by VMware.
Now judging from what is on the VMware landing page
Get a comprehensive view of overall performance for the entire vSphere environment; health, performance and capacity. Heat maps easily locate trouble areas and mapping of virtual machines to host, cluster and datacenter combined with trended analytics enable quick and effective problem solving.

Q. What is the current offer?
A. During this promotion, when you purchase an eligible VMware vSphere product offering you will qualify to receive a perpetual license of VMware Alive VM allowing you to manage up to 50 virtual machines and one (1) year of Basic Support and Subscription (SnS) at no additional charge.

Q. What is the timeframe for this promotion?
A. When you purchase eligible products between November 23, 2010 and March 1, 2011, you will be qualified to receive a promotional code for our VMware online store which can be used to redeem the applicable VMware Alive VM perpetual license. Redemptions must be made by April 30, 2011 at midnight PST.

Q. What is the benefit of VMware Alive VM
A. VMware Alive VM is a uniquely designed product that enables the VM administrator to have a comprehensive view of the overall performance of their complete vSphere environment.

Indicators of health, workload and capacity

Heat maps to easily locate trouble areas

Mapping of virtual machines to host to cluster and datacenter to get to root cause analysis

Trending and analytics for quick and effective problem solving

An Alive VM promotional redemption code will be emailed to eligible customers within 30 days of Alive VM General Availability or within 30 days after the eligible order is placed, whichever is later.
So officially the product has not yet been released. Notice the slight name change from the original Integrien brand. But the promotion is valid.
Here are some features from the Integrien site
AliveVM Features & Benefits

Advanced Real-time Analytics

Sophisticated Dynamic Thresholding algorithms to learn the normal behavior of all time-series performance metrics captured by vCenter for all virtual elements.
Real-time calculation of Health for each virtual element, driven by an algorithm which assesses the underlying metric normal/abnormal behavior.
Real-time calculation of a Workload level for each virtual element, driven by an algorithm which assesses the resource-limited performance metrics.
Real-time calculation of a Capacity index for each virtual element, driven by an algorithm which projects the element's future Workload demands

Compelling Visualizations

Visualize the performance of the entire virtual infrastructure from all vCenters, not just one, complete with element relationships that tie ESXs to VMs, VMs to LUNs, etc.
Dashboard focus can be switched from Health to Workload to Capacity analysis; or switch from an overview of the entire environment to detailed performance information about any element with one or two mouse clicks.
Within minutes of installation, AliveVM's analytics start determining the range of normal behavior for every element, so you can focus on truly anomalous behaviors that requires attention before they develop into problems that affect end users.
An element detail view graphically displays the Health, Workload and Capacity not only of the element themselves, but also of parent and siblings. Related storage and network devices are also shown so you understand the behavior of the element in context
Automatically highlights an element's most actionable metrics, those with the most abnormal behavior in the recent past
View 'mash-ups' of health performance with related change events. This makes the impact that each change in the environment had on the element's health obvious. For example, if a configuration change degraded the health of a particular VM, you would quickly see that on the chart, and know which change triggered the performance problem.

Architecture

Available via download as either a quick and easy server installation package or a virtual appliance; as a web application there is no client installation necessary.
Collects all available time-series performance data, topology relationships, and vCenter configuration change events directly from vCenter. Requires only knowledge of the vCenter URL and a read-only user credential for each target vCenter to configure.
Install and integrate with your vCenters in minutes - no external RDBMS required, no manual configuration and no required user input.
Inherits the flexibility, reliability and scalability of the Integrien Alive enterprise platform for performance management.