I was one of a few blogger that were invited to participate yesterday in a Bloggers briefing -
given by Doug Hazelman - presenting Veeam's new product Surebackup.
Well this is not actually a new product as such - but a family of the current technologies that Veeam use with the addition of one significant new feature that will be introduced in Q3 of 2010 in Backup and Replication v5.
Some of the points that were shown at the briefing - which I am sure will be public as well after the announcement.
One of the biggest issues Administrators have with verifying the validity of Backups of an OS is that when doing this you cannot only rely on the restore only of one restored system.
Let me give you an example:
Verify an Exchange Backup. For this you will need Exchange, DNS, Active directory , which means we are not talking only about one system, but multiple systems. The same would go for almost any Web application restore as well.
Now in the case of the Exchange backup, the restore will entail not only multiple Operating Systems, but also having to isolate these machines from the production Network.
So as you can see - we all have a problem with attesting to the reliability of the backups that we take - will they actually work when push come to shove? It is not a definite answer - one way or the other.
So how will SureBackup help us out? With the new technology - you will be able to to verify the backups of your VM's . How will this be done? The VM's can be brought up in a fenced environment (isolated) and they can be "packaged" as a vApp to come up as a group. But even more so - you will be able to run these VM's from the compressed backup files - without even having to inflate them. One thing that all participants were amazed about was the information below

And a slide to give a bit more info about the process and something to think about the future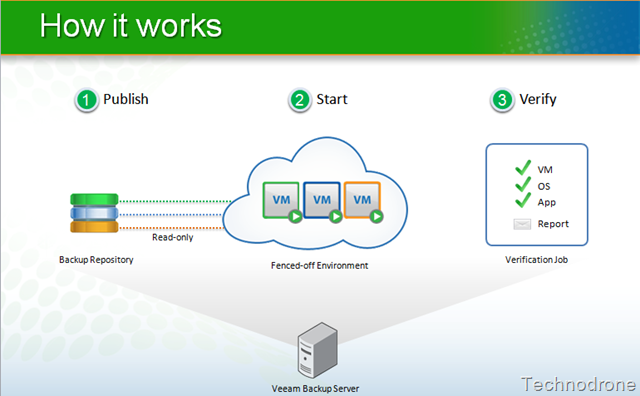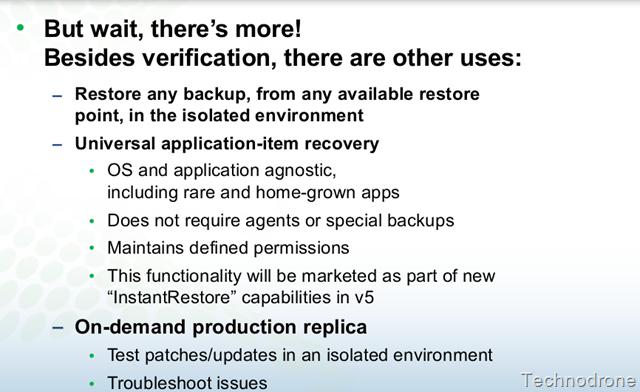 Some other points to note:
The restore can be done on existing ESX hosts - no extra licenses are needed.
The restore and verification can be done directly to your DR site - because it will be on an NFS store that can be mounted (of course this will be automated to say you loads of time)
This will not be a replacement for SRM
I for one will be looking forward to the Beta for the Product when it is released - this will be an interesting one!
Thank you again Doug for the opportunity.