This is not a ESX or a virtualization tool but for those who are interested in tracking their blogging traffic.
First thing is to install Google Analytics on your blog. I will not go into the details of how that should be done, Wordpress and other blogging platforms have plugins to do this for you.
Once you have it defined, you can either:
Go into the site every day and check you statistics.
Set up a report that will land in your inbox at your specified interval
Use Polaris.
So what is Polaris?
Polaris is a cross-platform desktop widget for Google Analytics. With 8 standard reports it's the easiest way keep your data always instantly available. The rich interface and swift navigation make it a pleasure to use.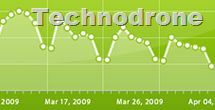 Polaris is a free download for everyone who manages one website profile. For those who are managing multiple profiles, the upgrade to the full version is $15 / year. Both the free and the full version will get regular free updates with new functionality and features.
A great app, free and is of course cross-platform. Highly recommended!