I Would Love a Rolls-Royce but...
With the Virtualization world buzzing and with latest Microsoft announcement from today that the Windows 2008 R2 Hyper-V Server will be completely free of charge (and will come with Live Migration and HA) and the prices and licensing of vSphere
A few questions have come up:
Will this change completely take over the SMB market with a product like this?
Because of the above what will happen to the enterprise market?
Here is how I see it. If you look at the table that was provided on the post above then the direction in which Microsoft is going is becoming clear.
They presented this table: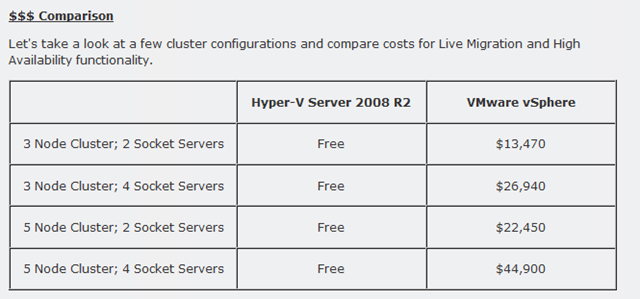 Now if we compare any vSphere product that has HA and VMotion – the lowest level possible would be Advanced so the prices seem right (and we will not mention the fact that there is no VC license in here). I am not going into features and everything other reason to continue using VMware.
For the SMB market – the additional feature set is nice but, and especially in times like these, the bottom line will be $$$. And unfortunately for VMware in this battle they are not coming out on top – not by a long shot…
But as always this is the nature of competition and the open market – as soon as another player comes into the equation – the competition between them grows – and in the end – we all benefit, because prices drop.
My bottom line.. VMware is the Rolls-Royce of Virtualization – and anyone that says different needs their head examined. The new kid on the block (and yes believe me they are here) is Microsoft, and Citrix Xensource in my eyes is becoming less and less of a major player.
Being a Rolls is nice – but not everyone can afford it – and those that cannot – will look for something that will save them money – and sometimes at the expense of functionality. Does this change my view of what is the better technology – no it does not, but this is not the purpose of the post.
So for all those folks in Palo Alto – I think it is time to start looking over your shoulder, the competition is creeping up on you.